What People Are Saying
"Everything you paint is magical!" - Jake
"I love my new scarf - it's so soft!! And I know I won't find such a unique print anywhere! I get compliments everywhere I go!" - Maggie about Postal Reminiscence square silk scarf
"You are the only person I know who can capture such an important photo, one I have always wanted painted. Whatever insight you have as a fellow nature lover, botany enthusiast, girl who appreciates meadows and picnics, and COLOR, I will love it!" - Joanna
"Your patterns are great. It's so fun to explore them!" - April
"So cool, it's like seek and find!" - Bernadette about Garden Soul pattern
What Are You All About?
"Pattern Talent is a one woman show. I put my personal values into every product I make: QUALITY, the highest standards, SUSTAINABILITY and AESTHETICS. I create THINGS THAT LAST and stay TIMELESS rather than chase trends.  I'm inspired by how things used to be done when they were done FROM SCRATCH. I put SOUL into everything from the first mark in my sketchbook to the finished product that I very carefully select FOR YOU.
I like including NON-CONVENTIONAL and less explored motifs in my designs in order to help you HIGHLIGHT YOUR INDIVIDUALITY and doing experimental colorways along with the beloved classics.
My inspiration comes from seasonal nature changes, cozy and fine living, eras bygone and... the most unexpected places!"
~ Darya Karenski
Meet The Artist
Darya Karenski is an independent artist and textile designer. She is the founder of Pattern Talent, an illustration and design brand. The name stems from repeating patterns being Darya's major passion and strength and the logo reflects the traditional pre-computer pattern drawing method.
Her artwork is most known for sophisticated color combinations, classical art and natural history inspired motifs including plants and animals, vintage objects and curious characters from book pages. Think nerd art with a great taste! She works in a variety of mediums including watercolor, ink, gouache and digital. 
Darya is a linguist and a native Russian speaker with global cultures and languages being another major inspiration source. She lives in Massachusetts, USA with her family, a flower garden (to relieve stress and draw inspiration from) and works from her studio in a 180-year-old colonial house. Researching local and global history undoubtedly leaves a trace in Darya's art!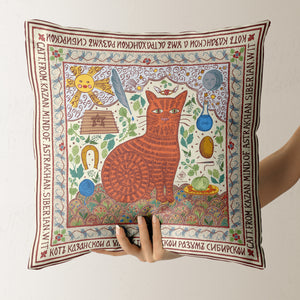 Cat from Kazan Pillow Cover - 18" x 18" luxury cotton canvas square pillow