• Darya Karenski • antique • artist life • cozy home • everyday • flowers • gardening • gift giving • gouache • history • home • inspiration • kraft • memories • nature • New England • painting • rural • rustic • rustic floral • shabby chic • slow living • small business • vintage • wall art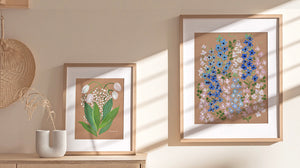 As a proud owner of an old New England house built in about 1840s, I have a soft spot for all things rustic farmhouse. We asked a local enthusiast to look into the history of our home and oh the treasures he found - I get to keep the photocopies of all the existing deeds on the house - first written in quill, then created on a typewriter, then the fax-type font from the 1980s and 90s, and finally, your typical Times New Roman of the new era. In this Library of Congress 1878 map of Ashland, our house is present and...
---
• Darya Karenski • aromatic plants • flowers • fragrance • fragrant plants • gardening • gift giving • gifts • home • inspiration • nature • olfactory • painting • perfume • scent • small business • watercolor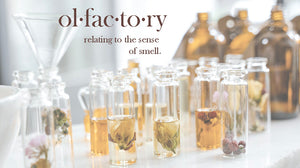 Fragrant flowers, perfume notes, fragrance art - oh my! I'm so excited about all of this. Great smelling things are my passion. I have been meaning to dive into perfume art for a while. It actually, started a few years back when I created my Aromatherapy design and lots of its derivatives. By the way, you can find the main Aromatherapy print as a silk scarf and kitchen towel in the shop, as well as wall art. Back then, I made an elaborate list of all things fragrant including flowers, fruits, nuts and... moved on to my pattern design work and what...
---
• Darya Karenski • flowers • gift giving • silk scarf • slow fashion • small business • sustainability • textile design • watercolor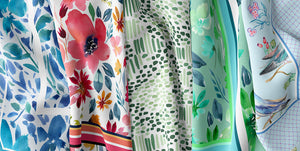 Ahhh... summer! My garden is bursting with new blooms every week. In addition to painting them (and filming quick painting tutorials with voice over - check out my Instagram & Facebook reels and TikTok's), I've decided to bring in something special to my silk scarf shop.  It is no secret that my illustrated square silk scarves were painstakingly painted and designed over months - I added them to the shop exactly a year ago.  This year I decided to offer something a little more light-hearted! 🌸 In addition to the existing 4 collections (Naturalist Notebook, Legendaria, Not So Junk Journal and In The Dark), I'm...
---
• Darya Karenski • apparel • collaboration • inspiration • interview • kids • press • small business • textile design
Recently I had the pleasure of collaborating with a very cool brand called Princess Awesome & Boy Wonder that focuses on creating kids' clothes unbound by the usual gender stereotypes. If your little princess wants a dress with a dinosaur, space or construction trucks, Princess Awesome got you! That goes the other way around with unicorns and other "girly" topics. Plus, they have lots of designs devoted to science, technology, adventures, animals and the list goes on! I created a design called Dino Tracks that will soon grace a new dress! I did a little interview with Eva St. Clair,...
---
• Darya Karenski • artist life • gardening • painting • slow living • small business • textile design • watercolor
... that's what they say. Allow me to introduce myself, I'm Darya Karenski - the artist and designer behind Pattern Talent. First of all, the bold brand name was coined by my husband with the motto "Go big or go home" when I was graduating from college in Textile Design and knew I wanted a brand focused on creating repeating patterns for home decor, stationery, apparel - you name it. (I wanted it all and am still a bit guilty of that. I enjoy the very process of putting illustrations in repeat - pardon the lingo, it means creating designs that repeat on fabric, wallpaper...