• Darya Karenski • antique • artist life • flowers • gift giving • gifts • inspiration • nature • painting • postal art • postal stamps • silk scarf • slow fashion • slow living • staying true to yourself • sustainability • vintage • watercolor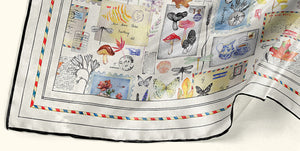 I'll tell you a little secret dream of mine: I would really love to illustrate a stamp. I sent my submission over exactly a year ago to USPS (United States Postal Service) art commission and even received a reply from Washington DC that they'd put me on the list. Even though it seems virtually impossible, I'm not losing hope! I draw a lot of inspiration from snail mail (and "the old ways" in general!), vintage ephemera and botanical illustration. I have combined all these things in my Postal Reminiscence design. (It had been completed a couple years before I submitted my art to USPS!)  It took a...
---
• Darya Karenski • apparel • collaboration • inspiration • interview • kids • press • small business • textile design
Recently I had the pleasure of collaborating with a very cool brand called Princess Awesome & Boy Wonder that focuses on creating kids' clothes unbound by the usual gender stereotypes. If your little princess wants a dress with a dinosaur, space or construction trucks, Princess Awesome got you! That goes the other way around with unicorns and other "girly" topics. Plus, they have lots of designs devoted to science, technology, adventures, animals and the list goes on! I created a design called Dino Tracks that will soon grace a new dress! I did a little interview with Eva St. Clair,...
---
• Darya Karenski • cozy home • everyday • gardening • home • inspiration • memories • nature • roots • shabby chic • slow living
Another important aspect of Rural Living for me is my childhood. I have always been a city girl but every summer my parents took me to my grandmother's house in the south of Russia where life just seemed to slow down. That house was a time capsule with linens from the 50s, vintage perfumes, vinyl records and vintage wallpaper. All those things fascinated me. I helped in the garden and did lots of household work including sewing, cooking and cleaning. It wasn't all fun and glamour - oh not at all! Forget the dishwasher and other modern day wonders. But...