• Darya Karenski • aromatic plants • flowers • fragrance • fragrant plants • gardening • gift giving • gifts • home • inspiration • nature • olfactory • painting • perfume • scent • small business • watercolor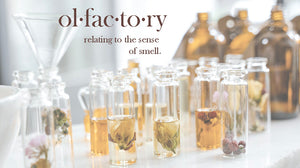 Fragrant flowers, perfume notes, fragrance art - oh my! I'm so excited about all of this. Great smelling things are my passion. I have been meaning to dive into perfume art for a while. It actually, started a few years back when I created my Aromatherapy design and lots of its derivatives. By the way, you can find the main Aromatherapy print as a silk scarf and kitchen towel in the shop, as well as wall art. Back then, I made an elaborate list of all things fragrant including flowers, fruits, nuts and... moved on to my pattern design work and what...
---
• Darya Karenski • flowers • gift giving • silk scarf • slow fashion • small business • sustainability • textile design • watercolor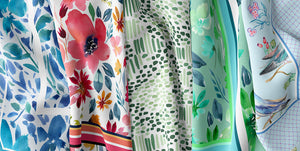 Ahhh... summer! My garden is bursting with new blooms every week. In addition to painting them (and filming quick painting tutorials with voice over - check out my Instagram & Facebook reels and TikTok's), I've decided to bring in something special to my silk scarf shop.  It is no secret that my illustrated square silk scarves were painstakingly painted and designed over months - I added them to the shop exactly a year ago.  This year I decided to offer something a little more light-hearted! 🌸 In addition to the existing 4 collections (Naturalist Notebook, Legendaria, Not So Junk Journal and In The Dark), I'm...
---
• Darya Karenski • antique • artist life • flowers • gift giving • gifts • inspiration • nature • painting • postal art • postal stamps • silk scarf • slow fashion • slow living • staying true to yourself • sustainability • vintage • watercolor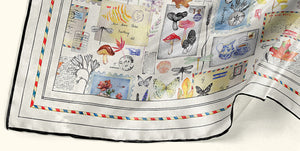 I'll tell you a little secret dream of mine: I would really love to illustrate a stamp. I sent my submission over exactly a year ago to USPS (United States Postal Service) art commission and even received a reply from Washington DC that they'd put me on the list. Even though it seems virtually impossible, I'm not losing hope! I draw a lot of inspiration from snail mail (and "the old ways" in general!), vintage ephemera and botanical illustration. I have combined all these things in my Postal Reminiscence design. (It had been completed a couple years before I submitted my art to USPS!)  It took a...