• Darya Karenski • aromatic plants • flowers • fragrance • fragrant plants • gardening • gift giving • gifts • home • inspiration • nature • olfactory • painting • perfume • scent • small business • watercolor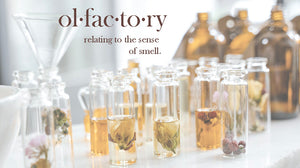 Fragrant flowers, perfume notes, fragrance art - oh my! I'm so excited about all of this. Great smelling things are my passion. I have been meaning to dive into perfume art for a while. It actually, started a few years back when I created my Aromatherapy design and lots of its derivatives. By the way, you can find the main Aromatherapy print as a silk scarf and kitchen towel in the shop, as well as wall art. Back then, I made an elaborate list of all things fragrant including flowers, fruits, nuts and... moved on to my pattern design work and what...
---
• Darya Karenski • antique • artist life • flowers • gift giving • gifts • inspiration • nature • painting • postal art • postal stamps • silk scarf • slow fashion • slow living • staying true to yourself • sustainability • vintage • watercolor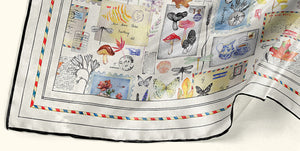 I'll tell you a little secret dream of mine: I would really love to illustrate a stamp. I sent my submission over exactly a year ago to USPS (United States Postal Service) art commission and even received a reply from Washington DC that they'd put me on the list. Even though it seems virtually impossible, I'm not losing hope! I draw a lot of inspiration from snail mail (and "the old ways" in general!), vintage ephemera and botanical illustration. I have combined all these things in my Postal Reminiscence design. (It had been completed a couple years before I submitted my art to USPS!)  It took a...
---
• Darya Karenski • cozy home • everyday • gardening • home • inspiration • memories • nature • roots • shabby chic • slow living
Another important aspect of Rural Living for me is my childhood. I have always been a city girl but every summer my parents took me to my grandmother's house in the south of Russia where life just seemed to slow down. That house was a time capsule with linens from the 50s, vintage perfumes, vinyl records and vintage wallpaper. All those things fascinated me. I helped in the garden and did lots of household work including sewing, cooking and cleaning. It wasn't all fun and glamour - oh not at all! Forget the dishwasher and other modern day wonders. But...
---
• Darya Karenski • artist life • cozy home • everyday • gardening • home • mindfulness • nature • New England • painting • slow living • watercolor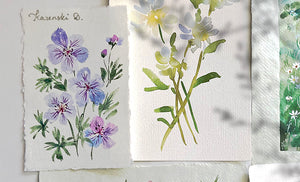 As I'm preparing for my very first original watercolor art collection drop, I wanted to share some inspiration behind this creation.  What does Rural Living mean to me? And why did I choose it as my very first original art collection? Is it the cottagecore trend? Not really. It's that my life IS rural and New England countryside plays a huge role in my creative flow. Long walks in nature are my meditation and recharging process. Seasonal changes spark my creativity and influence my working process - always. I have a flower garden that I started from scratch and I...