• Darya Karenski • collaboration • cozy home • everyday • home • shabby chic • slow living • Spoonflower • sustainability • textile design • wallpaper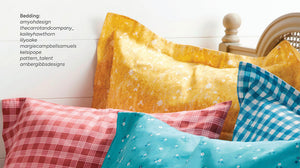 Wow, what a moment! Let's be honest, every Spoonflower designer dreams of making it to their look book and other marketing materials. While this platform is full of amazing talent, it's really hard to stand out in the creative, skilled and experienced crowd, so I'm particularly honored and happy to be included! In case you don't know, Spoonflower is a print on demand company providing high quality printing on fabric, wallpaper and multiple home decor items. I am a very active Spoonflower contributor as I love designing patterns for wallpaper and large scale interior fabrics, but the platform also offers me the...
---
• Darya Karenski • flowers • gift giving • silk scarf • slow fashion • small business • sustainability • textile design • watercolor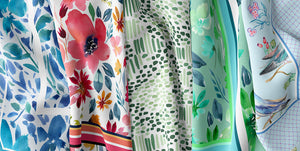 Ahhh... summer! My garden is bursting with new blooms every week. In addition to painting them (and filming quick painting tutorials with voice over - check out my Instagram & Facebook reels and TikTok's), I've decided to bring in something special to my silk scarf shop.  It is no secret that my illustrated square silk scarves were painstakingly painted and designed over months - I added them to the shop exactly a year ago.  This year I decided to offer something a little more light-hearted! 🌸 In addition to the existing 4 collections (Naturalist Notebook, Legendaria, Not So Junk Journal and In The Dark), I'm...
---
• Darya Karenski • apparel • collaboration • inspiration • interview • kids • press • small business • textile design
Recently I had the pleasure of collaborating with a very cool brand called Princess Awesome & Boy Wonder that focuses on creating kids' clothes unbound by the usual gender stereotypes. If your little princess wants a dress with a dinosaur, space or construction trucks, Princess Awesome got you! That goes the other way around with unicorns and other "girly" topics. Plus, they have lots of designs devoted to science, technology, adventures, animals and the list goes on! I created a design called Dino Tracks that will soon grace a new dress! I did a little interview with Eva St. Clair,...
---
• Darya Karenski • artist life • gardening • painting • slow living • small business • textile design • watercolor
... that's what they say. Allow me to introduce myself, I'm Darya Karenski - the artist and designer behind Pattern Talent. First of all, the bold brand name was coined by my husband with the motto "Go big or go home" when I was graduating from college in Textile Design and knew I wanted a brand focused on creating repeating patterns for home decor, stationery, apparel - you name it. (I wanted it all and am still a bit guilty of that. I enjoy the very process of putting illustrations in repeat - pardon the lingo, it means creating designs that repeat on fabric, wallpaper...