• Darya Karenski • cozy home • everyday • gardening • home • inspiration • memories • nature • roots • shabby chic • slow living
Another important aspect of Rural Living for me is my childhood. I have always been a city girl but every summer my parents took me to my grandmother's house in the south of Russia where life just seemed to slow down. That house was a time capsule with linens from the 50s, vintage perfumes, vinyl records and vintage wallpaper. All those things fascinated me. I helped in the garden and did lots of household work including sewing, cooking and cleaning. It wasn't all fun and glamour - oh not at all! Forget the dishwasher and other modern day wonders. But...
---
• Darya Karenski • artist life • cozy home • everyday • gardening • home • mindfulness • nature • New England • painting • slow living • watercolor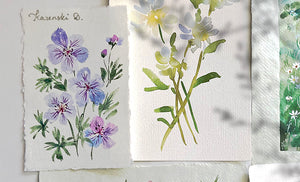 As I'm preparing for my very first original watercolor art collection drop, I wanted to share some inspiration behind this creation.  What does Rural Living mean to me? And why did I choose it as my very first original art collection? Is it the cottagecore trend? Not really. It's that my life IS rural and New England countryside plays a huge role in my creative flow. Long walks in nature are my meditation and recharging process. Seasonal changes spark my creativity and influence my working process - always. I have a flower garden that I started from scratch and I...
---
• Darya Karenski • everyday • gift giving • gifts • mindfulness • self care • slow living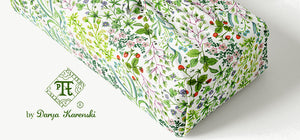 I've noticed there's a certain stigma about buying things for yourself, especially the ones on the pricy side. I've embarked on a journey to find out why it is this way. It is deeper than we think. Here are 7 reasons to get that pretty thing you want so much or take some time to pamper yourself: Treating yourself is not selfish. Do you believe doing things for you is egoistic? First of all, why is selfish always seen as negative? In the 21st century the word has so many nuances to it. What about self-sufficient? Confident? With healthy boundaries?...
---
• Darya Karenski • artist life • gardening • painting • slow living • small business • textile design • watercolor
... that's what they say. Allow me to introduce myself, I'm Darya Karenski - the artist and designer behind Pattern Talent. First of all, the bold brand name was coined by my husband with the motto "Go big or go home" when I was graduating from college in Textile Design and knew I wanted a brand focused on creating repeating patterns for home decor, stationery, apparel - you name it. (I wanted it all and am still a bit guilty of that. I enjoy the very process of putting illustrations in repeat - pardon the lingo, it means creating designs that repeat on fabric, wallpaper...